Working From Home
People often have this misconception that working from home is a breeze. The ultimate job fantasy that comes with its own unique lifestyle of getting up when you want, wearing what you want, and taking dips in the pool or going shopping.
But the reality is that it needs to have some rules and procedures to make it functional. Just as an office job does, especially if you want to make money working from home.
But in saying this, it is more flexible and provides you with some freedom that the office worker lack. But at the same time, it requires a lot of discipline and accountability.
To avoid making yours a dysfunctional workplace there needs to be some basic ground rules and requirements.
The following ideas might help you to think about your own needs if you are planning a work-from-home move or are struggling with it currently.
My TOP 5 Ways for Making it Work
Location, location, location.
Do you have a location available?  This means that you will need to allocate yourself a 'space' that is your office.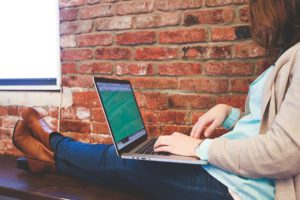 If you are working within your house we can assume that there are others living there as well. Family, kids, husband, wife, partner, and mother-in-law probably all sharing the same space.
If you live by yourself, the rules still apply, so keep reading!
Your own dedicated office space is great to have. If you are blessed with a spare room or attachment to your house then you have a bit of a head start. You need somewhere that you can leave your work for the day without needing to pack up. There is nothing worse than having fear of kids knocking your work on the ground (I've been there).
But even if you just have a desk in the corner of the family room, it's going to work out better for you if you get the families' cooperation and understand that this is your space and it is not to be touched.
If you don't have any worries about your workplace security then this is one less thing on your mind.  This will help set up a calm, relaxed environment. If you can leave it and come back to it without having to pack up each day, it will make your work-at-home life much more comfortable.
Work Hours
If you are working for yourself in your own business, then your working hours will be more flexible than if you are telecommuting with a head office each day.
But you still need to set yourself a timetable either way. In fact, even though you are working from home you are still part of the big picture. If you need to communicate with other people to make your income happen, then you will need to be at your desk when they need you.
An exception to this rule would be if you operated an online marketing business, where the world is open 24 hours a day. Then you can pretty much choose your own hours.
Let people (and other occupants of your house) know what your business hours are going to be, and try to stick to them.
A daily schedule of tasks will help to keep you on track. I personally have a written daily planner with the basics entered, so I know what needs to be achieved each day and by what time.
I am also a bit anally retentive (so my wife thinks), so do what works best for you.
Office Equipment.
You know how you used to get ticked off at your boss for not having pens available and running out of printer ink?  Well, make sure you have stock of the basics that you would use on a daily basis, too.
You don't want to be running down to the shops in the middle of the day to pick up a ream of paper or a pen. Schedule your office shopping and maybe even order stuff online so it gets delivered.
Have a comfortable chair. For ages, I sat on a dining room chair with a pillow under my backside for extra comfort, until I finally bought a comfortable, adjustable office chair. It's much better for creativity and posture.
If you need a computer and printer, try to keep spare inks or toners, and batteries for your wireless mouse, and get to know your local repair agent if things need to get fixed quickly.
And don't forget to back up your work. That's an 'Office 101' tip you can have for free.
Focus and Motivation
So this is the hardest bit, I think. Maintaining focus and motivation can be the downfall of the work-at-home worker.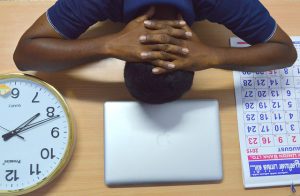 It can be a trap, when you are not feeling really motivated, to just go and sit on the lounge or by the pool for 10 minutes. Then 2 hours later, when you wake up, you realize you are behind the deadline or missed a call.  Yup, speaking from experience here.
So what can you do to stay focused?  These are 4 basic methods that I use to keep myself on track.
The daily planner, as I mentioned previously. This will give you a breakdown of what needs to be done, by when, on any given day.
Make yourself accountable. If you are working on an article to be written for a blog – there may not be a deadline for it. So, to keep you on the go, let it be known that this needs to be done by this afternoon, or before lunch. Set a completion time on your desktop calendar that will sound an alarm when the time is up. Get a friend to call you and ask if the job is done. It is about making yourself accountable for getting jobs done.
Set milestones for projects and break down big tasks into a series of smaller ones that can be ticked off a timesheet or in your head.
Reward yourself for the completion of tasks on time or before time. Allow yourself that extra cup of coffee or that swim in the pool, as a reward for good behavior.
You can even award yourself 'office worker or the week" if that does it for you.
Breaks
You need to take breaks. If you are in an office by yourself all day, it can become mind-blowingly dull. Have time out for lunch and tea breaks, where you physically walk away from your desk or office and sit elsewhere.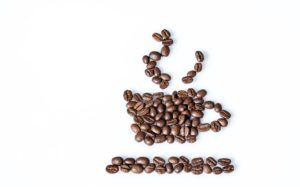 Avoid the temptation to work through lunch breaks or eat at your desk while you work. (Ok, so I have just finished my sandwich at my desk while I write this article. I'll get up shortly, promise!)
Also, if you can, try to fit in some exercise. I know it can be a hard one. But before you start work each day, or after you knock off, take a walk, play with the kids, get on the treadmill, or go to a gym. Just try to take a bit of time out for this and make it part of your routine.
My wife works full-time in an office and I work from home at my online business and marketing business. We have a son who I drop off at school each day and pick up from the bus in the afternoons. My day is worked in around these hours.
Fortunately for me, the school is a minute from the local golf course, so most days, after school drop off I go out for 1 hour of golf, which gets me home by 9.30 am to start work. It is just part of my routine.
Making it Work
Working from home can really be rewarding. But there are different pressures to working in an office. You have some flexibility, but also need to have flexibility and understanding from your fellow co-inhabitants (family, flatmates, etc).
Hopefully, some of the tips covered in this article will be of help. They may seem obvious but sometimes it is obvious that we overlook when it is not working.
If you are interested in learning different ways to make money from home have a look at this article.
My online work-from-home business is based on Affiliate Marketing. If you want to know more about that, have a look at my website. 
Please feel free to contact me or leave a comment below if you have any questions or ideas.