What Is Affiliate Marketing About?
So, What is Affiliate Marketing about? It is basically a process where a seller (merchant) offers a commission or return of sorts to a website owner in return for sales generated through their website advertising links.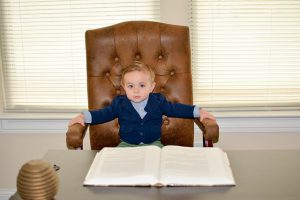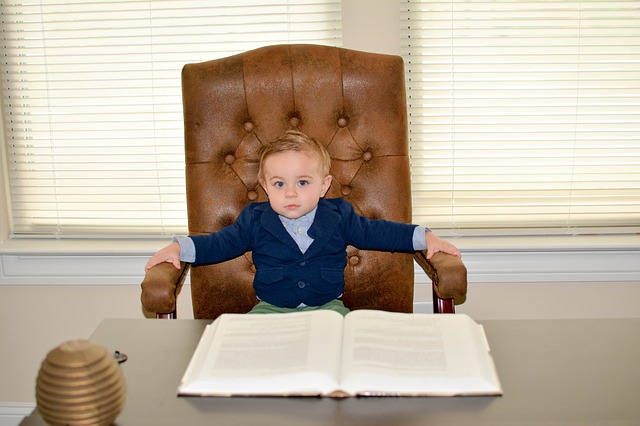 Traditional methods of internet marketing have evolved over time with the growth of the internet. These days many companies employ a variety of methods to sell their products.
Affiliate marketing is now a very common method used in conjunction with traditional outbound marketing.
Sell Products and Services From Your Own Website
The merchants are able to leverage off the traffic generated from an affiliate's website in order to broaden their reach into the marketplace.
This means that the affiliate must close a sale from his website in order to get paid. So the evolution of the affiliate marketer begins with the need to attract customers to their websites and encourage them to click on a merchant's link and buy.
Payment is generally based on commission from converted traffic (a sales transaction) that has been generated from a website. So it is a win-win situation for the merchant and the affiliate.
The merchant only pays when something is sold and the affiliate can sell product or services without heavy overhead costs or inventory.
What Are Affiliate Marketing Websites?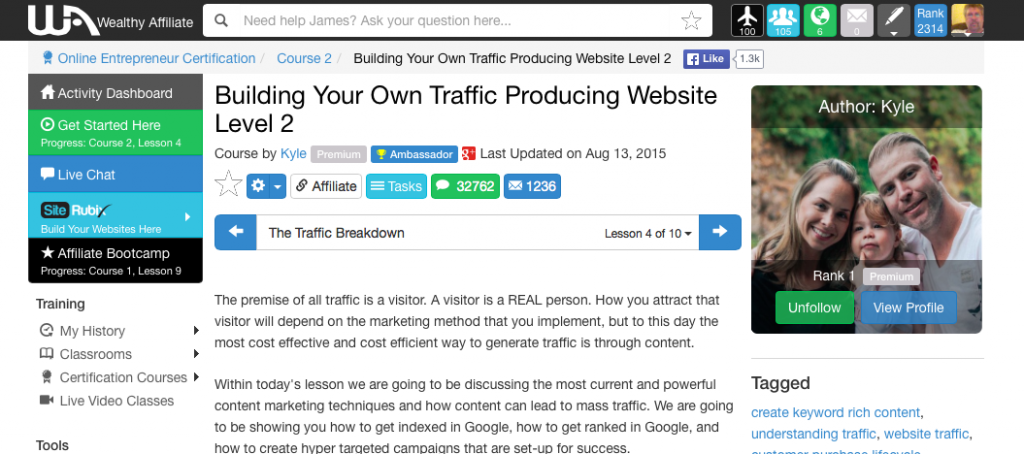 There are no real set types of websites that are used by affiliate marketers. Affiliate marketers can use a number of different methods for attracting customers. Some site examples are:
Information (content) and Niche marketing websites – where specific areas of expertise are promoted. This attracts volume through which the affiliate can target relevant product offerings.

Blog sites – these often overlap with niche marketing sites.

Comparison websites – these compare products and help influence the buyer to search out a recommended product on their site.

Search affiliate sites – these rely on volumes and often utilise the pay per click advertising where they get paid small payments when the customer links to the seller. They are paid whether a sale is closed or not.

Personal websites

Database – file sharing sites – music, movie, games etc where content is shared for customers to download from sellers sites.

Charity sites

Email marketing

Shopping directory sites – where products or sellers are listed by categories or brands
How Do I Find Sellers To Affiliate With?
There are a number of big programme management sites that offer affiliate links. They also manage the tracking and payments for the sellers and affiliates. Some examples are the commissionfactory.com (Australian) and greenaffiliateprograms.net, Commission Junction (CJ).
Many retailers offer direct affiliate programmes and manage them themselves. These can easily be found by typing "product" affiliate programmes into your search engine, which will bring up a variety of results.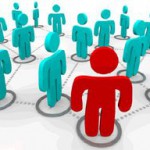 You will need to register with them and they will supply you with a traceable link. This will be used to track your referrals to their sites. Most offer a range of banners or widget links that have embedded your affiliate link to be used on your website.
Wealthy Affiliate.com site, jaaxy.com and namecheap.com sites also offer affiliate programmes. These are logical sites to affiliate with as they also offer excellent training and development tools for you to build your affiliate marketing business.
One of the earliest and largest internet marketing groups – AMAZON.com – offer excellent affiliate marketing programmes with a massive range of products and services to market. Amazon is very advanced with their offerings to affiliate marketers and makes the process quite easy.
Through their site, it is possible to create an entire marketing campaign for a who category of products if you want. So it is very much worth your while getting set up with them.  Like most affiliate groups you need to register with them (if you have a buying account you can use this).
Learning what is Affiliate Marketing about – Where Can I Get Training?
There is very little, if any, regulations on the internet and this leaves the door open to some unscrupulous opportunists.
You need to be aware and do due diligence on the groups that you team up with. See our reviews.
There are also very few formal training opportunities to learn what is affiliate marketing about. So many people attempt to develop their sites and arrange affiliate links with little or no real experience.
HOWEVER, One highly recommended site that you need to connect with is the Wealthy Affiliate University.
Not only do they provide all the tools you will ever need to start up and operate a successful affiliate business, but they also have the most comprehensive and relevant training available on the internet (or really anywhere).
This will provide you with the best knowledge required to engage in an affiliate marketing business.
How Do I Get Traffic To My Website?
This is one of the most common questions and one of the seemingly hardest parts of the marketing process. However, it isn't necessarily that hard.
But what it will take is some time and persistence.  It is rare that anyone will magically appear on the first page of any search result immediately after publishing a website.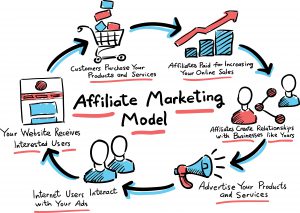 Getting traffic to your website can be achieved through a variety of practices and sources.  Advertising and promoting your site through traffic exchange sites is one way to increase traffic, but it does run the risk of bringing in poor quality traffic – that is, visitors that are not targeted to your site and products.
Marketing your content through social media (google+, Facebook, Twitter etc) are good ways to gain exposure but there are also other network sites where you can advertise and post articles, such as IBOToolbox. 
But, your main source of traffic will come through your content. The better your content ranks with the search engines, the more people will see it and visit your site.
Learning how to create good content that is relevant to your niche is the key to getting good rankings. 
You also need to understand keywords and SEO. 
Using Keywords and SEO to bring in traffic 
You may have heard of search engine optimising (SEO). This basically relates to how well your website is rated on the various search engines.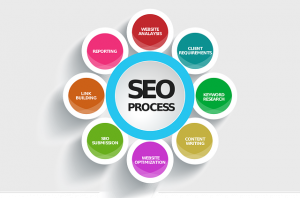 Google is by far the largest and most popular website search engine, so it is the one that you need to work on, initially.  SEO primarily works on keywords  or search words that you place into your website. These keywords will be picked up through a search on the search engine.
In other words, if a customer wants to know something about picture frames ( for example) they may type into Google ….  'types of picture frames' … to see what comes up. 
So having some keywords that relate to 'types of picture frames' will help to elevate your website.
So how do you know what words are good keywords?  ah ha! Well, it helps to have a good keyword search tool.
Google itself is a good source of search words.  If you type in any word and you will see a drop-down list of the most popular searched words for the one you enter.
So from this, you can see that people enter words such as 'picture frames online' a lot … so this is a good area to focus your keywords and content (which I'll cover shortly).
Jaaxy Keyword Tool 
Jaaxy is one of the best keyword tools and a program that any serious affiliate marketer should have on their desktop. This quality program gives you a comprehensive detail of keywords and phrases that are optimal for your SEO entries.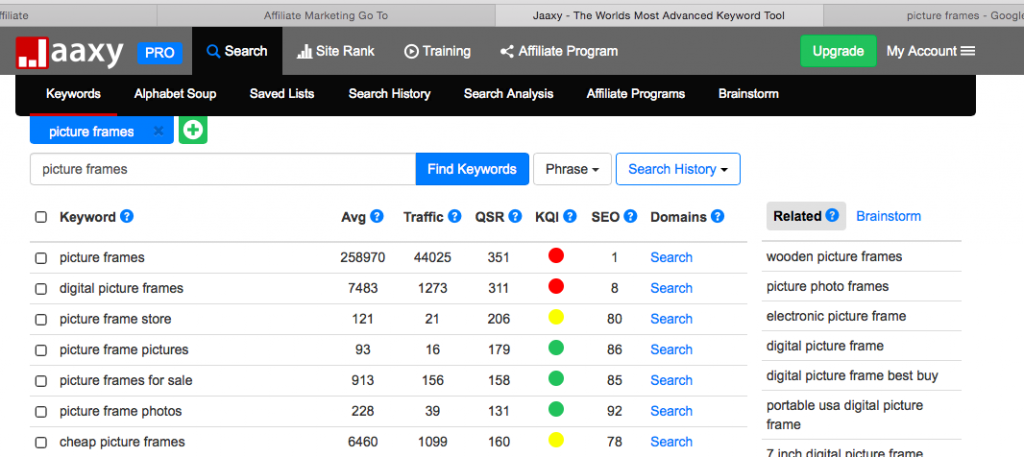 This Jaaxy snapshot reveals the red, yellow and green lights that indicate high or low keyword success.  QSR ratings (which indicate the number of competing websites with this keyword search) with values under 300 are indicators of the better keywords to use
QSR ratings (which indicate the number of competing websites with this keyword search) with values under 300 are indicators of the better keywords to use on your website. The lower the number the less competition for that keyword.  Note that keywords are a whole training session in itself.
For further training in this area, I recommend accessing either Wealthy Affiliate University or Jaaxy training. Both sites will teach you what is affiliate marketing about and also go into depth on content writing, engaging readers and keyword research.
Content
When it comes to affiliate marketing websites, they say CONTENT is king for a reason.
Most importantly, your website will need relevant content or information on your website subject (your Niche).  Your content is what engages your customer and brings them back to your website.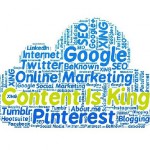 Without good relevant content, people will just click through your site and bypass your ads.
If you can't entertain your customers and keep them on your page your chances of making affiliate sales are very slim.
Writing content for your site need also not be hard. Picking a niche for your website that you are familiar with or have a passion for will make writing content easy for you.
However, the internet is full of fabulous information websites that you can reference material from.
But know that copying work of others is NOT acceptable and will harm your search ratings.
Good, informative content with well-placed keywords will improve your standing with the search engines.
What is Affiliate Marketing about – The Summary
So, what is affiliate marketing about? Affiliate Marketing offers an opportunity to set up a long-term residual income stream through professionally maintained and content filled websites.
But it needs to be said that this is not a get rich quick scheme, and be wary of those who offer it that way. It will require some patience and a bit of hard work.
Some people start making money within the first few months. And some it may take 6 months or longer. But you will be creating a residual, long-term income stream.
You will need to update and refresh your content and make your website engaging to maintain the best rankings on the search engines.
For further information on what is affiliate marketing about or to leave a comment please go to our About Me page. Alternatively, contact me at info@affiliategoto.com
What is Affiliate Marketing about? – Start Learning Now