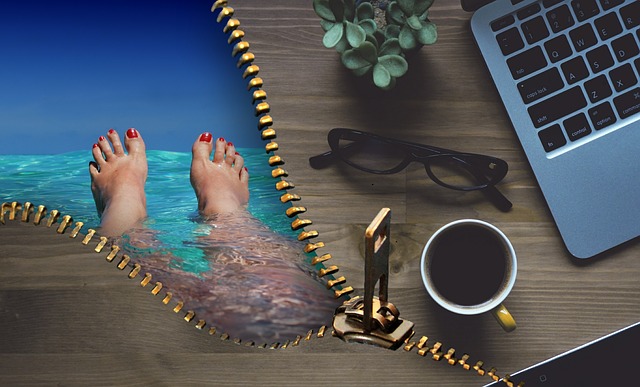 Starting an Affiliate Marketing Business Online
Start your affiliate marketing business "side hustle" in 2022 by learning affiliate marketing online while you do your normal job.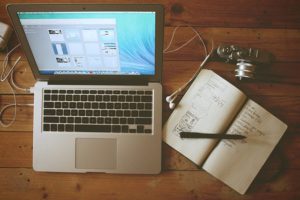 It is big business these days selling jobs or 'opportunities' that enable you to work from home. But how do you decide what is the best online business to start when there are so many choices?
Working from home online can be pretty rewarding and definitely worth investigating if you are serious about bettering your work-life balance. And best of all this can be started as a 'side hustle' while you are still working your normal job.
If you have been looking around for alternatives to the 'day job' you will most likely have come across ads on Facebook, Twitter, and probably anywhere on social media.
Actually, the reality is that if you have started searching you will probably have triggered a barrage of 'online business' ads hitting your social front pages and email box. But the reality is that most of them are not what you would consider the best online business to start launching into.
Such is life online – once the search bots have your IP address you are open game.  Once your search preferences are out there, you are fresh advertising meat. This is the power of online marketing. And the reason why savvy companies are investing in marketing online. You can use this to your advantage as well when you start an online business.
What is the Best Online Business?
I was asked by a work colleague the other day what I thought was the best online business to start. (Yes, I also do some part-time contract consulting work). She knew that I was involved in working from home and that I had some websites. She was keen to create a more flexible work environment for herself and had been thinking something internet based would be good.
So I told her what I am saying to you now. You have to have a good think about your personal circumstances first. How much money do you have to invest in your online education? How much time do you have to dedicate to a new venture? Are you ok with risk? If you want to sell physical products online, how much money can you set aside for stock, transport, postage, etc? They are just basics that will help you to understand what is the best online business to start for you.
Invest in Education
Unless you already have considerable experience in online marketing you will need to get up to speed by doing some relevant courses or training. If you want really good training, support, and mentoring you will need to pay for it eventually. The good stuff is generally not for free. Again, the costs vary depending on the type of business you think will suit you.
Which Is The Best?
This is why I personally love the affiliate marketing business model. And I am going to say early in the piece this is the best online business to start if you are wanting to develop an income while you are still working a normal day/ night job. It carries little or no risk and you don't need to hold product inventory or deal directly with customers.
An affiliate marketing business is an easy model to learn and acquire knowledge about. Generally, it does not cost a lot to get started and maintain.
Blogging Around The World
I was reading a post by a young travel blogger recently. This guy wanted to travel, but as an apprentice plumber, he was just busy all the time. He decided one day that he wanted to take a short break. He had saved enough funds to take a backpackers holiday to Fiji.  So he and his girlfriend packed their bags and went.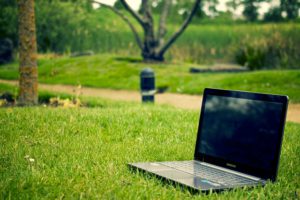 While they were away they decided to create a blog about their trip so their friends and family could see what they were up to. Early on they cottoned onto the fact that people were earning money from these sorts of blogs.
Getting Business Links
So they found out some information about linking their blog site to businesses that had products and services that sort of related to their travel experience. They were able to place tracking links within their blogs that connected to these businesses.
When someone clicked on their links and purchased something they got a notification to say they had earned a commission.
A long story short, they started earning enough money to cover their hotel costs, then the travel costs, and now all they do is travel the world and earn money from writing about their experiences.
Who wouldn't want this?
And this is exactly what Affiliate Marketing is about. You would see adverts and links on my website. These are mostly linked to businesses that I have a marketing agreement with. When someone buys a product or engages in service from one of these links I get paid a commission.
Online Selling V Affiliate Marketing
There are a couple of really top-notch selling platforms on the internet. These range from drop shipping (advertising and selling products directly from a wholesaler or manufacturer) to direct sales on ebay or Amazon.
Now, I have looked deeply into both the options above and there are some exceptional opportunities. But to different degrees, these both carry risks and require some money to get off the ground.
Drop Shipping Through Your Own Website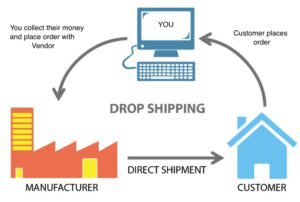 Drop shipping requires little upfront cost. But until you have a relationship with your suppliers, you will most likely be required to pay for a customer's purchase before it is shipped.
You then get your money back from the customer at a profit. But there lays your risk. You are generally liable for and have to deal with product returns as well.
Direct Sales Through Amazon and eBay
Direct selling on Amazon or eBay can be a hugely profitable business if done correctly. But even if you know what you are doing, there are market forces, cost cutting, product handling, shipping, foreign suppliers, etc that need to be dealt with. So the risk to you and your initial outlays is increased.
You can certainly reduce your vulnerability in this industry by investing in coaching and training from industry experts. My personal experience with training created by Adam Hudson from Reliable Education was excellent. The training comes at a cost but the information is invaluable if you want to go down the track of selling branded products on Amazon.
You can also get some excellent training and education about drop shipping techniques and options through SaleHoo and WholesaleTED.com.
An Affiliate Marketing Business
With Affiliate Marketing, you can still sell products from Amazon or eBay if you wanted. You just don't have to own the stock. Sure, you don't earn as big a commission from a sale, but you don't have any costs or risks.
The key to affiliate marketing is to focus on your customer's needs and wants. Put yourself in their shoes and help them learn about the products and services that you want to share.
So I want to share with you the best online business to start right now. You can follow my links to access some initial training and information about starting an online affiliate marketing business. This is free access, so you don't need any credit cards or payment details to get going. If you don't like what you see, then you can exit without it costing you anything.
What you will see is structured training and development courses (task-based learning and video tutorials) to help you learn the ins and outs of marketing online using affiliate marketing techniques. You will learn how to create a website, find a niche to work in, pick profitable products, and how to connect with your customers by creating engaging, quality content.