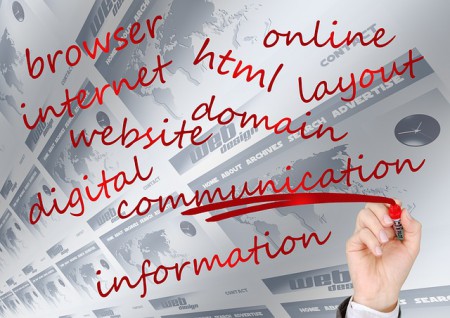 Session 4 – 
Website Domain Names
This article is the next session in the series of training to help you learn online affiliate marketing and is focused on website domain names.
Turn a hobby into a business or something you are really passionate about into a money making website.
Learn Online Affiliate Marketing – W
ebsite Domain Names
There are two schools of thought on selecting domain names. Brand related and niche domains.
Brand related domains
Some say that you should select a name that you can create into a brand. A name that doesn't necessarily relate to a product or service or the niche that your website is based on. For example – Coca Cola is one of the most recognised brands in the world. But if you didn't know what it was you would have no idea that coca cola was a drink brand.
However, this company has made it its mission to create a drink brand around a name so that the name will become instantly recognisable throughout the world as a drink brand. It gives the company scope to add flavours, change sizes, introduce new concepts and ideas without having to re-invent the advertising and branding.  Same with Nike, McDonalds, Starbucks etc ..
You could do this with your website domain names as well. It is quite possible and legitimate to have your domain name as your own name, an acronym, a jargon phrase or just something catchy.  And brand your website niche around this name.
Let's say you website was going to be a site dedicated to promoting tarot cards and psychic readings. You might want to use a domain name based on your own name – as an example .. Stella.A.Lovechild.com.  Now this doesn't have anything to do with Tarot cards or psychic mediums etc but what it does do is allow you to develop your name as a brand, so people will recognise the name as the product.
As you build authority within your website niche you can diversify and use the name as the identifier for your business. It is the content of your website that will be the driving force behind your search engine ranking, with well structured Search Engine Optimized (SEO) articles and information pages.
Niche related Domains
Another school of thought is that your website should relate to your niche and contain some keywords that will help to immediately identify your niche and assist with search engine ranking.
In this instance, you would decide on the market that you are going to create your website for. Your niche. You will have already thought about it and know what niche product you are going to target. It might be your hobby – model trains – for example.
So you can then play around with a keyword tool, such as Jaxxy or the Wealthy Affiliate keyword tool and look for some ranking keywords or phrase that you can use to make up your domain name.  The Jaxxy keyword tool will help you identify high ranking keywords and also tells you if there is a domain name available within those keywords … its very clever and saves a lot of time.
So, say you were going to do model trains as your website niche. You might come up with a domain name that looks something like modeltrains.com or displaymodeltrains.com, something that fits with what you want to blog about. It makes your domain name instantly recognisable as a site that will have something to do with model trains.
If someone typed in a search request into google "how to display model trains", your website name will help it to rank better in the search results. Once you start to develop good SEO'd content for your model trains website your ranking will become even better and your domain name will stand out better in the search results.
How do you buy a domain name

?

Domain names are controlled and managed by domain authorities who are accredited by the Internet Corporation for Assigned Names and Numbers (ICANN).

A domain name, (URL or website name), is connected (registered) to an IP address (DNS) – being a string of numbers that identify the website. It might look something like 216.58.221.36 or something similar (this address takes you to www.Google.com). (See 'what is website hosting ?' below.)

This number, along with your domain name are unique and registered to you when you buy it – or should I say, lease it, as you don't actually own it. You pay an annual registration fee to use it. But it is unique to you whilst ever you maintain this registration.

Domain names can be registered through authorised sells such as Wealthy Affiliate Site Names , Namecheap, godaddy, cheapdomains etc ..

The cost of a domain name ranges but in general around $8 – $20 per year depending on the name extension (.com, .net, .org etc ) and the availability and desirability of the name.
What is a domain name extension?
In the early days of internet,  the extension meant a bit about the website  – that is a .com related to a company website, a .net was for a network or a collective group, and a .org was generally a non-profit type organisation etc … but these days it doesn't seem to matter so much. With the growth of the internet the domain name authorities have become a lot more inventive with extensions.
But – it should be noted that the better ranking websites tend to be the .com's, .net's, and .org's.  Worth keeping in mind when selecting the extension for your website.
Other options are subdomains. These are extensions of another domain that can be used for individual websites.  For example, Wealthy Affiliate offers 2 free hosted websites using their registered domain  .siterubix.com.   SO what this does is allows you to register a name for free that relates to your domain. It may also allow you to register a name that you like that is already taken up as a registered domain – for example,  you might want to register ModelTrains.com  but it might already be taken.  So you might be able to register it as modeltrains.siterubix.com. and develop and publish your website.
But it does need to be noted as well that extension domains do not rank as well as .com's.  This is not a rule, just an observation. But it is worth finding a full .com type site name if you are planning to do this professionally as it will help you brand your name.
What is Web HOSTING service?
Website Domain HOSTING is often confused with Domain names.  With hosting you technically rent space on a Server that holds your website data. Your host, the server where your website data is stored, assigns an address (DNS) linking your files to your domain name so that anyone can find your website on the Internet by typing in your domain name.
You generally Host a website with the people you buy your domain name from, but you can move it to another HOST if you wish. Hosting is an additional cost to buying the domain, generally, but some domain name sellers include hosting in the initial cost.
Found your market? Now you can plug it into this handy tool and see if your domain name (www.domainname.com) is available or you can set up a domain name through Wealthy Affiliate with a .siterubix.com  extension for free.
Please feel free to leave a comment on this training or if you have any questions and I will get straight back to you. More of the learn online affiliate marketing series is available under our training tab.