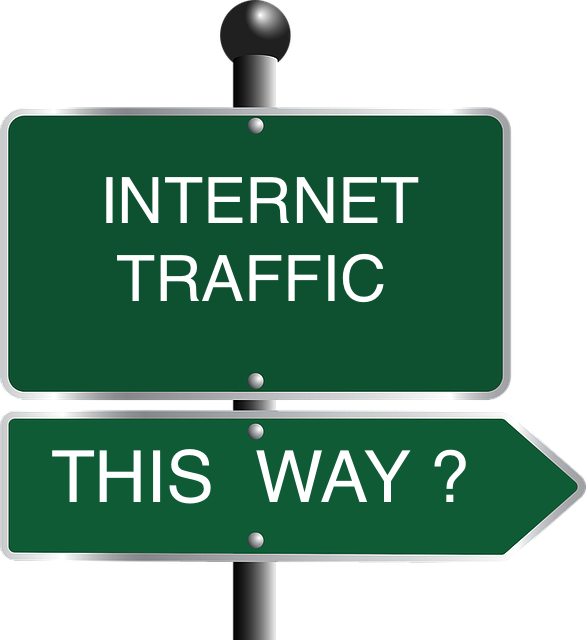 A Free Traffic Exchange Site
Are free traffic exchange sites any good? In this Traffic Ad Bar review, we will have a look at one of the most popular traffic exchange sites. Does it really bring free traffic to your website or is it just another waste of time?
Traffic Ad Bar – Free Traffic Your Website
When you start out building your online marketing website,  I'll bet the first thing that is on your mind is, "how do I go about bringing traffic to my website?"
Well, there are a number of techniques that you can, and will have to, employ to create traffic volume to your website. Without a volume of visitors, you will probably not sell enough through your affiliate ads or click ads to cover the cost of the website and hosting, let alone live on it.
That's a cold reality.
But this is why traffic generation needs to be forefront in your marketing plan.
These are covered more fully in other parts of my site, but some of your options where to generate web traffic from, are good on-page SEO using researched keywords, quality relevant content, PPC campaigns ( Pay Per Click), social media and finally, free traffic exchange sites, which is what the Traffic Ad Bar does for you.
What is a Free Traffic Exchange Site?
Free Traffic exchange sites, like Traffic Ad Bar, are websites that have been set up to encourage large volumes of traffic to be generated through member's websites.
This is done by engaging large volumes of people to interact through viewing each other's sites.
So you get traffic to your website in exchange for viewing other people's websites.
You scratch my back, I'll scratch yours !
Free Traffic Exchange sites make their money out of upgrades to their members – the upgrades might give the member more points per view toward more clicks on their website and may also allow them to earn commissions on encouraging others to upgrade as part of their affiliate program.
Traffic Ad Bar has an affiliate program with several layers of upgrades that give the member more credits per click, guaranteed click volumes per day and higher commissions on referrals.
My Traffic Ad Bar Review
Traffic Ad Bar, from my perspective, appears to be one of the more 'legitimate' and useful free sites.  I have been using it for a while now as a free member and recently I bought the lowest upgrade package as I was intrigued to see if it made any difference ( strange reason I guess, but I was hoping that it would actually increase the click volumes that I was getting).
What do you have to do ?
Signing in is free .. you just provide your name and email address and away you go. This will also provide you with an affiliate link for Traffic Ad Bar, so you can advertise it and link banners etc to promote their site. You get click credits for new sign ups – but I think the actual money payments start once you upgrade.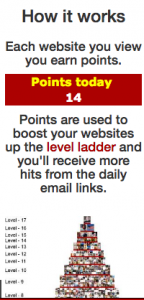 Firstly, you need to set up a bunch of websites (or links) that you want to promote and have traffic sent to.  Under the free membership, you can set up 5 websites.
Under the subscription that I am on, you can set up 8 websites and some banners.
So the deal is that you then go to the 'Click Here TO Earn Point" area and this sends you a stream of websites for you to view.
You have to wait 10 seconds between each website for it to load and view before you can click onto the next site.  You earn points for each site you view.
The more you view other people's websites, the more 'credit' you earn for your own sites. The more credit allows you to progress up the tree ( dare I say Pyramid! ) of members.
The higher up the tree you go the more prominently and frequently your websites and links are displayed.
My Observations
Now what I can say about using Traffic Ad Bar is that I DO see an increase in traffic  – raw and unique clicks – on my site after I have spent a bit of time surfing and earned my own 'clicks'.
BUT … I know that I click through the sites that I am given to view as fast as I possibly can…. so I can only assume that others do the same.
HOWEVER, I have to admit that on occasions I see a website that I actually find interesting enough to stop and look at.  Again, I can only assume (or hope) that others might do the same for my site.
It is really hit and miss … but is it any better thought organic searching methods ? that is the million $ questions.
The other point is that some of the "TOP SURFERS" on this site hit 1000's of sites a day. This cannot possibly be done physically. So, they have to be using programs to do this …. so where is the quality ?
Quality V Quantity
There are a few schools of thought on this subject.
Like I mentioned earlier … I do see an increase in traffic through my site through using the Traffic Ad Bar system. But is it quality and how can I tell?  What is quality and what is not ?
It could be said that traffic to your site, with a 10 second click through on average, could be considered good in that it might help to create site authority through creating external backlinks. Hmmm … not sure on that one.
Maybe, if you have an opinion on this you could let us know in the comments below.
I find that on some of the targeted links that I use ( these are tracked back to my Wealthy Affiliate custom links )  I can see a defined increase impressions and a mild increase in unique clicks here.
But I can't tell if they are qualified views or just a click through, although I have had some referral sign-ups from these links.
My Thoughts
For the purpose of summarising my thoughts and experiences for this Traffic Ad Bar review – I have to say that, firstly  it seems like a huge amount of work clicking sites, however, there does appear to be some traffic gain.
As far as earning affiliate revenue is concerned – at this point of time, it is not a winner for me – in fact – nothing, Zippo. But I have not put a lot of effort at all into advertising this and only have small, inconspicuous links to this site on my websites.
I do know that it works for other affiliate marketers, so I have not discounted it at all as a potential income raiser as time goes on.
PAID Traffic Exchange Sites
Just a quick adjunct to this Traffic Ad Bar review – I have used some other FREE exchange sites as well and I have not seen the same amount of traffic – be it impressions or clicks – generated from using these sites.
I have also used some Paid traffic exchange sites – for example, RT – Rebranded Traffic exchange site. This one, in particular, has provided a lot of traffic to various sites of mine. But I did not find I was getting a lot of conversions (sales) from the traffic – and as I had no idea where the traffic was coming from I can't say that it was well qualified.

So, if you are going to use traffic exchange sites – definitely try the free ones first.
Traffic Ad Bar appears to be a safe option. I do get a fair bit of email advertising from them but it is not over the top.
My favourite and definitely the best traffic generator for me is IBOToolbox – check out my review on this one HERE.
This is a social / networking site and not a traffic exchange site, so they are not comparing apple with apples, but it is also free to access and advertise.
I would like to ask you to connect with me here on the site and leave any comments that you might have in the comments area below. This is something that can be of great assistance to others who might want to try Traffic Exchange sites.
Also – if you area interested in learning more about the fabulous affiliate marketing platform that I use and manage my websites through check out my Wealthy Affiliate Review.