What is Grammarly?
I write a lot of articles and I tend to make a lot of mistakes. I try to type fast to get through my workload and sometimes the mistakes fall through the cracks during my proofreading – particularly my grammar and punctuation errors.
But recently I was introduced to an online spell checker, Grammarly. I have been using it for several months now so I thought I would do a Grammarly review on my experiences.
At this point of time, I am on the Grammarly free version but I expect that I will upgrade it shortly so I can take advantage of the extended vocabulary and spell checks.
But for the purposes of this review, I can say that the free spell check and grammar correction is great. I use it religiously in my WordPress article editor program (in the Wealthy Affiliate back office program), as it highlights the spelling and grammatical errors as I type.
So, I can fix errors as they show up on the fly. It saves me a huge amount of time on the proofreading as it picks up the grammar and punctuation problems intuitively.  
I love the way it just highlights the errors and provides instant options.
So Much More Than Just A Free Online Spell Checker
Another great feature is that I could go back over my earlier articles that I have posted and Grammarly will check through them as well and highlight the errors that are outstanding.
This is brilliant for me and highlights to me what was slipping through the cracks with the MS Word spell checker that I had been using previously.
When you are writing content, whether it be for your own website, books, novels, contract writing or schoolwork, spelling accuracy is imperative to maintain a professional look and credibility with your readers.
Under the premium version, Grammarly will also provide a content authenticity (plagiarism) check for you. So you can be sure that your content is not displaying any perceived duplicated copy.
I hope you can't relate to this but there would be nothing worse than to be rejected from an editorial, or your school or university paper etc because it has shown up some duplication of text.
These days, duplication is something that CAN happen, unintentionally. This can occur with volumes of written copy being produced by different writers all using similar reference resources – eg the internet. So this is where the plagiarism checker is vital in a professional or educational environment.
So whilst this is a Grammarly review based on the free version of the program,  as I upgrade my subscription. I will post a further review of the upgrade features and it's usability.
Given that the free version is providing me with such fabulous results I can only expect the paid upgrades to be even more powerful.
Write a Grammarly Review of Your Own
An additional benefit for affiliate marketers is the Grammarly affiliate program that enables you to earn money online from tracked purchases through your affiliate link.  Once you sign up you affiliate account you are also eligible to earn a $25 bonus.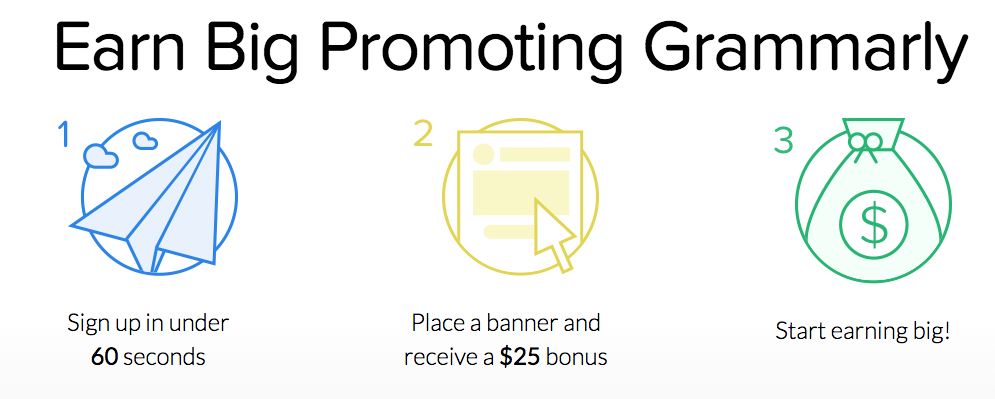 You just need to write a Grammarly review of your own and post it online. If it is accepted as filling the criteria then you can be rewarded with an early payment.
So if you are wanting some details or to sign up for a free Grammarly online spell checker, click on this link HERE and set up your account.  Also, if you have any questions or comments on this review please feel free to add them below as your comments can be really helpful to others as well.
About the Author – James writes articles full time for his various affiliate marketing websites and other blog sites. If you would like to know more about what he does and how he has created his online business to earn money online, jump over to his profile page at AffiliateGoTo.com