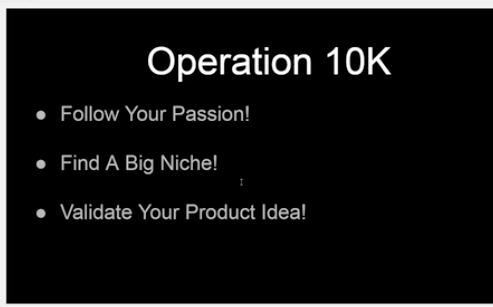 I am not too sure how long this get rich quick program has been around. But I came across it recently and thought I would share my Operation 10K review with some of my findings.
Created by Matthew Neer and Desmond Ong, this is another "landing page to funnel to riches" type program that will apparently get you earning 4 – 5 figures a month by following their systems.
Further investigation showed that this program seems to crop up from time to time and then close down again. It has been doing this since around 2015 – but it may have started earlier.
Alarms bell ring for me when I see programs offering secret methods and magic bullets with claims of making you money with minimal input. Over the years I have seen many programs come up like this. So most are the same, re-invented, with name changes. But they are all aimed at naive or novice entrepreneurs looking to succeed online.
Name: Operation 10k
Website: operation10k.com (now shows as 'sold out' but it will start up again soon)
Owners: Matthew Neer and Desmond Ong
Price: $19 initially with lots of upsells.
Recommendation: Not sure if it is a scam. Some good video training but no real substance and a lot of features out of date or not existing. But either way – I don't recommend it.
My #1 Recommended online platform.
The Operation 10K Review
I have to admit that my first impressions of this system were not totally bad. I liked their presentation and the way they introduce the product and training. The video training was reasonable quality and some information ok.
So, in the interest of good investigative journalism (ok, I was curious), I paid my $19 to check it out. And then came the series of upsells and down-sells. I was now in the spiralling sales funnel.
I skipped all the ups and downs and seem to have got access to a bunch of bonus stuff anyway. You then get directed to a members website that has a brief introduction and 10 modules of video training.
Some of the methods they train you on to get free advertising and traffic are actually not too bad and probably legitimate marketing options.  – eg Their "Trojan Horse Method" suggests you find established websites and influencers and read their website posts. Go down to their comments and write in a GOOD, RELEVANT comment. Don't use links (as this will look like spam and get bounced).
The idea is people reading the comments may click on your avatar and look you up. It's legitimate but a bit hit and miss – but have some merit in gaining a small amount of organic, unpaid views.
Desmond Ong's student group Facebook page was created about 4 years ago with around 4000 followers – but no recent new member over the past 30 days and all old outdated posts.
That was not encouraging.
What is Operation 10K
So basically,  Operation 10k is about creating a digital product, building subscriber based email lists and getting affiliates to promote and sell it for you.
The goal is not to make money with your product, but to build a list by collecting leads and email subscribers so you can market and sell things to them over and over again.
"The money is in the list".
You can also get your own Affiliate link through JVZoo so you can sell this course and make the full $19 when someone buys into it.
However, The JVZoo Affiliate Program for Operation 10K doesn't exist anymore, after I had bought my access … so that doesn't work and another disappointment.
At this stage, Operation 10K is not delivering on their promised easy money.
The Operation 10K Training Tutorials
The lessons are delivered in 10 video tutorials plus some 'bonus' information.  So I went through all the videos and whilst there is a bunch of good information on online marketing – it is all fluff. There is very little substance to the training. Not a lot in information on how to actually do things.
If you are really serious about wanting to learn affiliate marketing then you need to take a look at my #1 recommendation. Set up a free login and experience the training for yourself. If it works for you then move ahead and subscribe. If not, then just don't do it and pay nothing.
Module 1: Planting The Seed for Income Domination
Desmond Ong starts out with a pretty frank and honest sounding preface to the program. He discussed the need to have the right mindset and attitude before starting your online business.
Desmond emphasises the need for 'Massive Action". So initially they sold the push button program that would make $375 a day etc. But now Desmond is emphasising that you have to take action and do lots of work, consistently to make money. You have to have a positive attitude or it will not work. Well hurray, at least I can relate to that.
Module 2: Understanding The System
Pierre Choo (another person) presents the blueprint of Operation 10K. Focusing on getting buyers leads – or basically getting an email list and marketing over and over to your email list.
The key for this program is getting the email list of leads and setting up autoresponders that send out series of emails to your lead base.
The core of Operation 10k is to get your traffic into your funnel to collect email addresses. Also encouraging affiliates to sell your products at 100% commission with the aim of just getting in their leads. You can then market this program to your list.
Ok, my head is spinning now and I'm getting confused.

Module 3: The Covert Money Blueprint
In this video is all about how to deal with your clients on your email list to keep them happy.  Its all a bit theoretical but I like the message about not just trying to push products on them and engaging with them.
Module 4: Identifying Your Cash Machine
This module is all about following your passions and finding your niche.
The platform that I use to run my affiliate marketing business has a huge section devoted to helping you find and develop your niche for a sustainable business.
So this is all about targeting your leads to match your niche.
Module 5: Value Creation
Operation 10k recommends that you find a product that is already selling well by checking out your competition and seeing what is working. They suggest checking out other peoples websites and see what they are selling and how they go about it.
Also looking at best sellers and trends on Amazon and base your product on something that is already successful.
Module 6: Cash Cow Creation
This is looking at creating a product with video and ebooks or software (if you are a programmer). So, they talk about creating content basically.
So you have to do this … create the product. Get an ebook or video produced that works for your niche. Or you can do it yourself. They don't really show you how to do this as it is sort of assumed you know. SO I think inexperienced people will be really struggling about now.
Module 6: Bonus Video – In-depth Creation
Operation 10k stresses the importance of getting your products created fast and as cheap as you can or free. Creating the product yourself. But without the best tools and the know-how, newbies are going to struggle with this.
Module 7: Making It Work
This module talks about getting content creating (ebooks or videos that you can sell ) outsourced to freelancers. They suggest Interviewing experts to get information about a niche! This is starting to get a little bit unrealistic – nice in theory but in reality, this isn't going to happen.
Module 8: Money Magnet Asset Generation
This module is about creating your funnel.
Bonus Video – The Magic Bullet
This bonus video is about using their copywriting template for writing funnel scripts.
Module 9: Tying Everything Together
This module shows you how to launch your product for affiliates to pick up on ClickBank or Warrior Plus, It is about signing up for your account and getting your products listed.
Module 10: Leveraging Top Marketers
Ok, so this is the part where you sit back an watch the money rolling in, apparently.
This module is about how to advertise to find the affiliates that you need to sell your products to get hold of their email leads.
They suggest leveraging off blog reviews for different related products and find their affiliates. They suggest you contact these affiliates to get them to sell your product. Wow, really? Ok, now you're really losing me.
It sounds easy enough but, again, it is not really practical.
High and Dry
So they pretty much leave you high and dry at this point.
It all sounds simple, but I just cannot see it working.
So do I recommend purchasing Operation 10K? Absolutely not.  Even with their bunch of bonus half backed traffic generating methods, it is just not worth the effort.
Bonus: Forbidden Traffic Method
The Leech Method
The Trojan Horse Traffic Method
The Spike Method
The Timeline Method
So What do I Recommend?
I have been involved in Affiliate marketing online for a number of years now and I would like to share with you what I use and what I can tell you, does work.
I started with the Wealthy Affiliate training program around 3 to 4 years ago. I was able to create a free login to the program. Then I could follow the basic training with them and learn how to create a website from scratch and add content. They then show you about SEO and getting your content to rank in the search engines. You learn how to market your niche and generate traffic and create a sustainable business.
I spent about 3 weeks in the free trial program. And then decided to take the step further and subscribe monthly and see if I could develop a business.  I got hooked and things started to work for me so I do an annual subscription now, so my costs are even less. There are no upsells or down-sells. Just one price. You only other costs are domain names and any advertising you choose to do.
So if you would like to join me have a look at the Wealthy Affiliate Review and tell me what you think. I am happy to connect with you inside this program and help you out to get started.