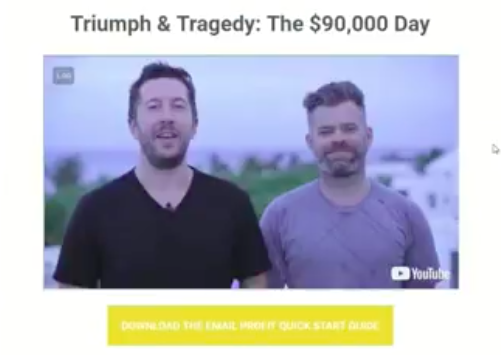 How amazing would it be if you could launch a lifestyle email marketing business in 48 hours? And have it all done for you so you can earn $14,000 a month within 90 days? Well, according to creators Winter Vee and Tim Tarango, this is totally possible through their List Launch Pro program. Is this too good to be true, or is it too good to be true? Find out in this List Launch Pro review and you decide for yourself.
The List Launch Pro Review
I came across this program when I received a recommendation in an email from a personal development/ self-help guru (that will need to be another review). The email led me to a sign in for a webinar for the List Launch Pro training "How to Launch Your Email List Business in Less Than 48 Hours Using The L-3 Cloning Process."
Ok, so that sounded like it might be worth listening to. Winter and Tim explain how all you need to do is to build a list of email addresses and use this list to make money. There is nothing really new about that. Online,  creating mailing lists is a standard practice and you can make good money by advertising to your client base. So long as you give them quality content and don't spam.
Look out for Extraordinary Claims
But these guys apparently have a system that will have you up and running in 48 hours. And you can be earning 14K in 90 days by leveraging of lists that you build and those of others like you – sort of a traffic exchange but with email.
So, I signed up for their training webinar and then the series of email started rolling in. Prior to the webinar, they get you to watch a series of short videos.
You get the rags to riches story from Winter, and he tells how he worked his way up from being a school drop out to running a multi-million dollar business. Plus they do the overview of their business systems. The videos are pretty compelling and motivating but become a bit repetitive. Pretty basic overview and setting the scene for the webinar.  A lot of emotional pull used.
They talk about how people involved in affiliate marketing can spend day after day writing posts and articles in order to try to get views to make money. Their system doesn't require a website – just a landing page. Within this 'done for you' program they include templates for landing pages and hook you into large volumes of traffic for you to build your email lists.
My personal experience with bough traffic has not been all that good in the past.
The Webinar
The webinar goes on for over an hour video about what you are going to get and generally how they do things. Starts off small, gets bigger explaining their L3 system and other bonuses etc.
So they introduce the program at $2997 initially but within a couple of minutes, the offer is halved for a limited time only.  But that offer has been on the table for at least 12 months that I know of.  Just do a google search.
So it is a pretty steep initial outlay. And there is no refund policy that I could see.  Also, you don't even get to see ANYTHING of the actual program inside (other than from their power point presentation / Webinar).
So you pay $US1497 upfront before you get a login to see what you have to get yourself into.
Their guarantee is that you will earn 5000 subscribers and earn $5000 in the first 60 days or they will train you until you do. So there is no money back guarantee or refunds but they will stick with you until you earn $5000, or you give up, one or the other.
So this is one to keep an eye open for in your mail inbox.  I could not bring myself to parting with that much cash based on the word of a couple of guys I have never heard of before. No refund policy and a flakey guarantee.
The Verdict
So, do I think you should buy into List Launch Pro? No.
But first, you need to think about whether it's something you can afford to spend time on and potentially lose all the money you invest. Remember that any investment has some risky and you can lose your money.  Keep a clear mind when looking at any opportunity full of hype and big promises.
If you are really keen to create a legitimate income online using a proven platform then take a look at my
# 1 recommendation.
This is a true low / no risk business opportunity that you get to try before you buy.
Thank you for reading through this List Launch Pro review. Please feel free to drop any comments below.