As I sit on the front deck of our little Airbnb bungalow, in the lush northeastern area (Ra District) of Viti Levu, the main island of Fiji, it suddenly dawns on me.  I have been pursuing the 'laptop lifestyle' for a couple of years now but I don't think, until this very moment, I have ever truly embraced the idea. So, what really is the Laptop Lifestyle?
You read in blogs about people doing 'the laptop lifestyle'. They travel around the world and run their businesses from their laptops via the internet.  You see the pictures on social media of people sitting on the beach or on a boat typing away etc. Earning money through the internet from any place they choose.
What are they actually doing? what is the laptop lifestyle attraction? Their photos and articles are often headlined with 'Click-Bait' and link to various programs and websites. But what sort of work are they really doing and promoting?
And what does living the laptop lifestyle really mean? Is it achievable? Is it really as attractive as it seems? How do you start doing it?  These questions are asked by many wanting to get a taste of the potential freedom that comes with running your own business online.
What Is The Laptop Lifestyle Gig? What Does it Mean?
I guess the phrase 'living the laptop lifestyle' has a recent history. The internet has brought with it many opportunities for the home business entrepreneur. Working from home is a dream more and more people these days are seeking.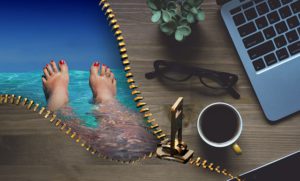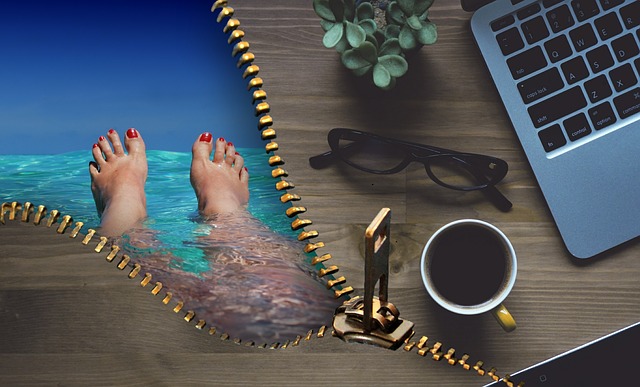 People are looking for ways out of the rat race, kicking the 9 to 5 job.
Having the ability to work from any location that you choose whilst earning a living without being tied to a desk or office. This is what the laptop lifestyle promises.
Freedom to work when and where you want and still earn an income. Working online on your laptop.
What Work Do Laptop Lifestyle People Do?
There are a bunch of different businesses that the laptop lifestyle can support. These are only a few ..even convincing your boss that you can work from home could be considered the laptop lifestyle in a way.
Writing Opportunities
Depending on your skills and likes, there are opportunities for the writer/editor types. If you like to write (and are good at it), there are all sorts of publications around the world that will pay you for written articles.
It is pretty competitive but those who are good at it and can crack into a publication can earn good money.
MLM's
If you are social and like meeting people and selling, then some of the more reputable Multi-Level Marketing (MLM) companies can offer good opportunities for business entrepreneurs. But I think it restricts you a bit as far as the laptop lifestyle principles work. MLM businesses need you to be available for your clients and down-line and up-line etc. But there is money to be made with the right groups if you get in at the right time.
Affiliate Marketing
Affiliate marketing is probably one of the easiest and cheapest business models to start up and maintain. You hear of people who travel the world and write blogs on exotic locations and travel experiences. Well, these guys are technically Affiliate Marketers. It just means that they have links within their website blogs to various 'affiliate' programs run by all sorts of companies. These companies allow them to advertise their goods and services through the blog site.
An affiliate marketer/blogger earns a commission when a sale is made from one of their tracked links.
I personally do affiliate marketing.  I have a number of websites that are based on various niche topics – like sailing, golf and online business services. This article is originally posted on my website that caters for people wanting to set up their own online business – their own laptop lifestyle by using Affiliate Marketing as the business model (without the clickbait and hype).
Is the Laptop Lifestyle Achievable?
Ok, Heads up!
Not everyone who sets out to do it actually achieves it.  One thing that the 'clickbait' articles don't always tell you is that working for yourself can be hard work. It is the same for anyone who wants to earn an income for themselves. It is all about doing the groundwork and setting up your business so it is in a position to generate income.
Sure, it is achievable.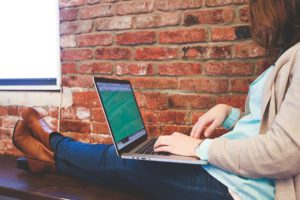 You can literally earn good money from the internet using your laptop, tablet or smartphone. Lots of people are doing it right now, with varying levels of success.  Having the right vehicle to get you there is the key, as is putting in the effort initially to set yourself up.
Like any business start-up – traditional bricks and mortar or internet based – they need to be worked to create a viable, sustainable base. If you don't get this step right then it will probably not work.
How Hard Is It To Do?
Too many people fall for the glitzy, shiny, "make money overnight without doing anything" type scams that float around the internet.  The reality is that some effort is required, so try to avoid the scams and save your time and money.  Everyone knows – if it looks too good to be true, it probably isn't true. We just seem to all forget it when we see the fancy cars and $$ signs flashing.
To start up and maintain the idyllic laptop lifestyle you will have to remember that work is required from the start. But once you have things humming along then the work is easier and the true lifestyle part of the equation kicks in.
If you think about the steps involved with online work you can map out what effort you need and what is important for success:
 – Setting up a website or social media platforms
– Driving traffic and maintaining activity
– Monetising – generating income streams
– Adding content – video or written
Some Parting thoughts about the Laptop Lifestyle
An hour or so later I am still sitting on the front deck of my little bungalow. Having nearly completed one of my articles for the day, I realise that I actually have it. I am doing what I was seeking – the Laptop Lifestyle – but just didn't put the name to it before.
Time to go out to a local island for a swim and lunch. Unfortunately, there is no internet so, for now, I can just work on some articles and post them online when I get back.
When I am back in Australia I still work part-time as a consultant for a boating company. I do that because it is one of my passions in life and I have the freedom to regulate my work inputs.
Outside of that, I am building the strong foundations of my affiliate marketing business. This generates an income for me now, but most of all it will fuel my income needs going forward as I start travelling and embracing my new realised "Laptop Lifestyle".
Try Affiliate Marketing – Free Trial
If you are even vaguely interested in exploring the benefits of the Laptop Lifestyle, have a look at this Affiliate Marketing option HERE and see what you think. The Initial login offers unlimited free access with no credit card required.
You don't have to be a great writer or have any real business skills to do this, just drive and be willing to create a new lifestyle for yourself. You can learn all you need to know. This site above is a training platform as well as providing website tools, hosting, marketing and support.