There are plenty of misconceptions about affiliate marketing. Many people are not convinced that it is even a legitimate business. So then, how does affiliate marketing work? In this article, I'll explain some of the basics that make this such a relevant business.

Why are you looking at Affiliate Marketing?
When I first started looking for a new opportunity I was motivated to find something that would help me get out of the day-to-day job grind. I wanted to work for myself, having worked for a boss all my working career. Even when I was earning a good 6 figure income I was always having to work for someone else above me.  
I needed a change. And maybe this is the same for you. Are you looking to change a job or just want to earn some additional income? Or you might be unemployed or even just starting out in the workforce, just out of college. The need is the same. The need and desire to work for yourself and chart your own course.
Looking online for good money-making opportunities will bring you into contact with some pretty dodgy deals. You have to be aware of this and learn how to sort the wheat from the chaff. Not to say that online businesses are more open to this than others. But the reality is that you have to be just as vigilant as you would if you were looking for bricks and mortar business. You need to do your due diligence.
The myths and untruths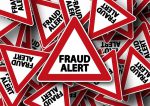 The good thing is that affiliate marketing will be a lot cheaper and less risky than any conventional business you might look at.
But you will hear all sorts of myths and untruths about this type of business. And a lot of it comes from people who have failed to achieve success online and some have not even tried it before.
The most common statement I have heard is that affiliate marketing is "just network marketing". Well, network marketing, or multilevel marketing (MLM) as it is now more commonly known, is in itself a very legitimate method of marketing products and earning money as a business.
However, affiliate marketing is not an MLM. In fact, it is quite different on a number of levels, but the main thing is that you are not answering to up-lines or company reps. An affiliate marketing business is run generally online through websites as the base medium. You work for yourself entirely and your results are based on your own personal efforts and not on those working under or above you.
Affiliate marketing does not require 'recruiting' new partners or business associates or distributors.  
People might say that affiliate marketing is a scam. Well, this is not true – affiliate marketing is a legitimate marketing technique that is widely used by businesses to capture large, diverse markets in order to sell more products. Simple.
But yes, there are some "programs" that encourage you to join them and work on the premise that they will guarantee you results by increasing your website traffic or sending you customers etc. These really need to be checked out, because you can just simply waste your money on a lot of these. Don't take anything at face value or promises. Check them out properly by looking at reviews.
Does Affiliate Marketing Work? Is it still Relevant?
Affiliate Marketing is not relevant anymore! Have you heard this one?
Well, it couldn't be further from the truth. Data shows that the take-up and usage of online sales and purchasing are increasing exponentially year after year. There are some 2.4+ billion people using the internet every day, all searching for something. Online buying is increasing and affiliate marketing is the way companies are using to get advertise to these people.
How does Affiliate Marketing work?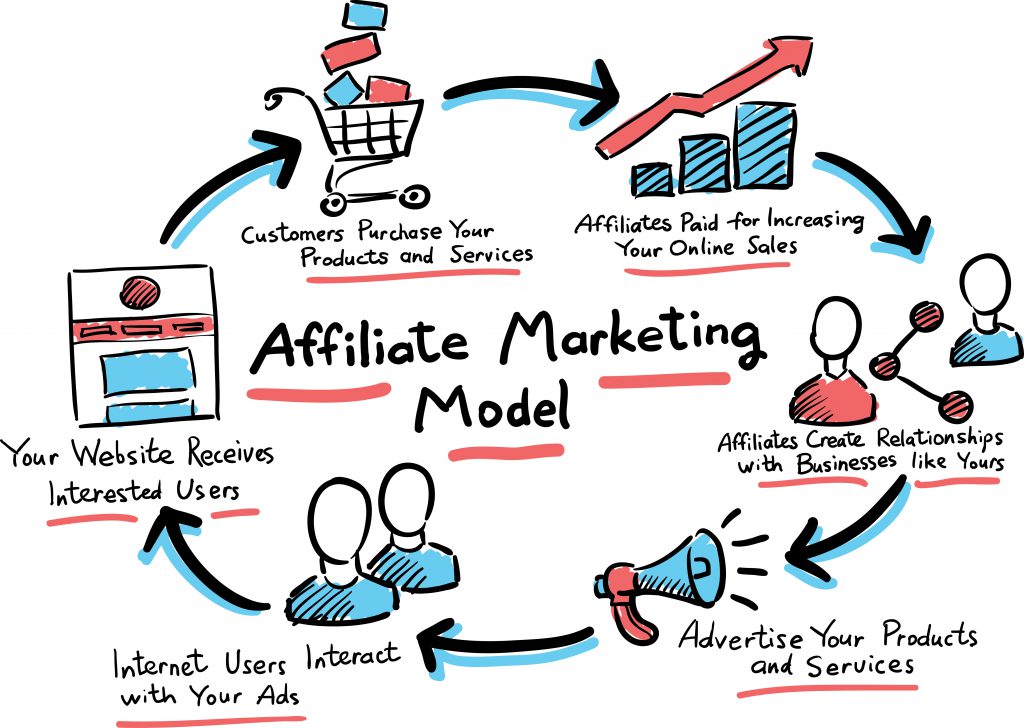 Put simply, affiliate marketing is the process of marketing and selling products or services through online links to affiliated partners. By this, I mean a website owner (you or me) can create an affiliation (or a relationship) with a business ( be it a wholesaler or retailer) and advertise this business' products via links on their website.
As an example on this page, on my website, you will see various ads for different products or services. These earn me a commission when someone clicks on and/or buys a product. I don't have to stock products or perform any services. I just simply help the business reach customers that they would not normally get through conventional paper, TV or radio advertising.  
Affiliate marketing developed quite early in the life of the internet as we know it now.  One of the earliest affiliate marketing companies was one you know well. Amazon. When I started on the internet nearly 17 years ago I had affiliate links to Amazon that marketed books of all kinds.  
Today, Amazon is one of the largest retailers of all sorts of products in the world. In fact, I heard it said recently that one in every two dollars spent on online shopping goes through Amazon.
So companies like Starbucks, Kmart, John Deere, insurance companies, and retailers of all kinds throughout the world now have affiliate programs. These programs are offered to online marketers or website owners so they can link and earn commissions on sales.  
What does it cost to be an affiliate?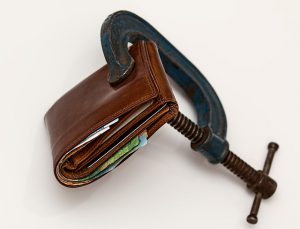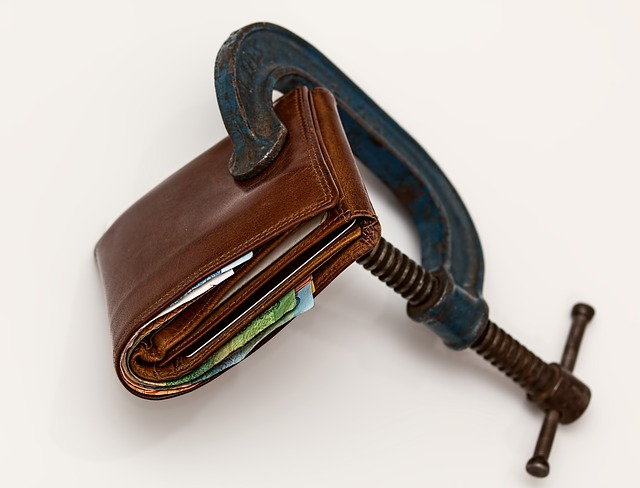 MOST companies that offer affiliate programs do not charge anything.
Some might require you to be involved in their online platforms (if they are an online service company for example). This might cost you a monthly or annual fee. But you are getting a service for the fee plus getting the opportunity to earn an income.

Some affiliate programs may require you to achieve certain KPIs or targets to remain an affiliate. Others don't care too much so long as you are actively maintaining your website with the view of engaging readers.
More recently we have seen the rise of affiliate program companies – groups that manage the affiliate programs for many companies.
It has become a big business these days and these service companies take the administration away from other big and small businesses. For example, a US-based group CJ.com (formerly Commission Junction) handles a huge variety of companies with different niche offerings. Another group in Australia that I use personally is Commission Factory which handles affiliate programs for hundreds of businesses in Australia and internationally.
These groups don't charge anything to create affiliate links however they do require you to have a working website with some traffic.
What do you need to start Affiliate Marketing?
To successfully conduct an affiliate marketing business you will need a website. Your website will need to be mobile device friendly as well. This is pretty much mandatory these days as more and more people are using their mobile devices to search the internet.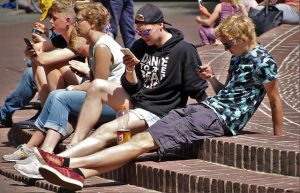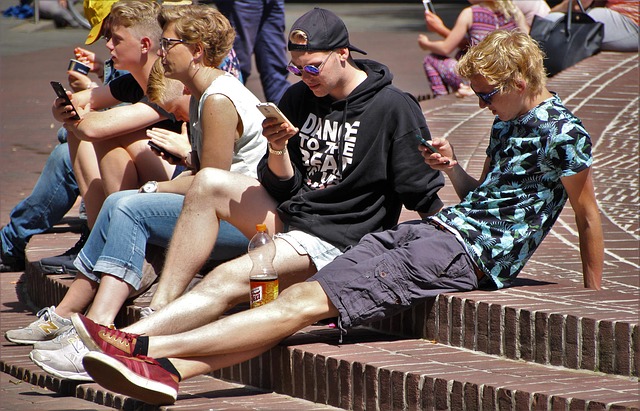 It is also possible to conduct affiliate marketing without a website. By creating social media channels you can create ads that can reach large markets but these are not necessarily targeted.
Affiliate marketing works best when you target NICHE markets.
By niche markets, I mean targeted marketing that aims at addressing specific customer needs. The best way to attract readers to your website is to have something that they are actually looking for. Niche marketing works by targeting products or services that will solve a need that a customer has searched for on the internet.
You can learn some more about NICHE marketing here. It is part of the learning required for affiliate marketing, so I cover it in another article.
What training is available for Affiliate Marketing?
Fortunately, you can find quite a bit of information (not the myths or untruths) about affiliate marketing online. I highly recommend any site that can give you and all one approach to the business of affiliate marketing.
The Affiliategoto.com website provides information about getting started online and the tools you will need to create your online business.
The online platform that I personally use for my business can be found here.  This platform is a NICHE affiliate marketing site and it provides me with all the training and support that I require (and use frequently).  Additionally, I host most of my websites on this platform (up to 25 websites). I build, design and manage these sites using their WordPress tools.
I was also able to utilise the FREE access and account set-up. This gave me access to totally free training on how to set up an affiliate marketing website and learn about the business of affiliate marketing.  Well worth the visit and logging in just for this training alone.
I hope this gives you a good insight into the business of affiliate marketing and how it works. Please feel free to ask any questions or leave your comments below and I'll help out where I can.