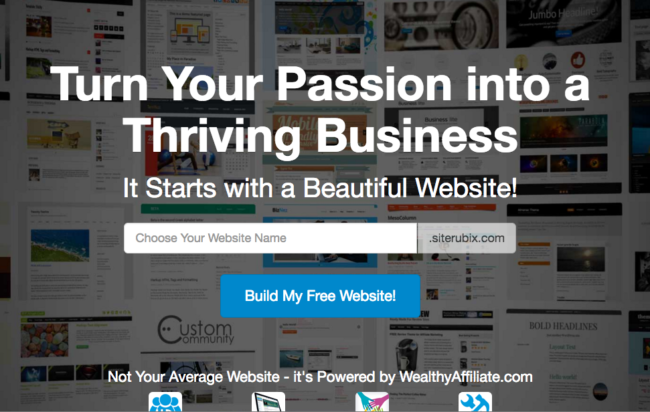 How to Build a Website from the WA/WordPress Website Builder Platform for Free
Do you want to know how to build free websites?  It takes no time at all using the wealthyaffliate.com website building platform.
This is a fabulous platform that you can use to create brilliant websites using  literally thousands of WordPress templates. So hang on here as we go through how to make a website from scratch with WordPress and Wealthy Affiliate.
Log in for a Free Starter Membership
To begin with you will need to create a Free Starter Membership at WA then go straight to the Siterubix site builder.
It IS free to start here – you don't need a credit card to create the membership login and you don't pay anything unless you want to upgrade to a premium membership – which you would do if you wanted to build your website into a business and start making money online for real.
But note that you can also still make money on a free website … that's just one of the neat things about this platform.
So what do you get for free?
You get 2 free websites to build and it includes free hosting as well. Plus you have access to a heap of training on adding content, adding pages and media plus you can learn how to turn your website into a money making business.
Plus you get free support and access to 7 days of "premium membership' facilities.
But for now, have a look at my video below to see how to build free websites, and just how easy it is to get started.
Check out the Video on How to Build Free Websites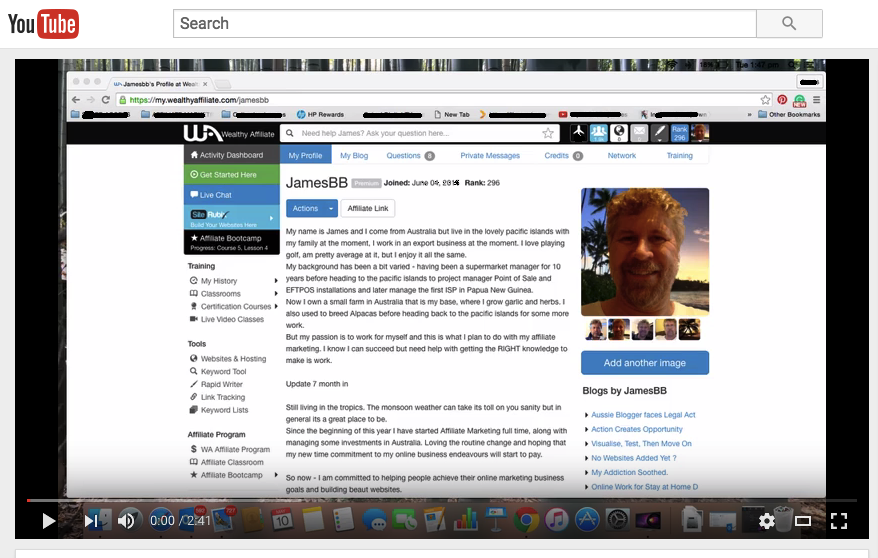 So, as you can see from the video – once you have created a starter membership login the process is really simple.
Wealthy affiliate provides a fabulous 'back office' program that enables you to build and manage your website easily.
SiteRubix Management Tools
When you click on the blue 'SiteRubix'  box you get access to a menu that allows you to perform all the functions that you need to create and maintain a fabulous website.
The Site Manager tab will take you through to the WordPress Dashboard there you can add and review posts, pages and media ( pics and videos). You also manage your website theme – appearance and widgets (these are the ads and info in the side columns, headers and footers. But essentially this is the hub of your website tools.
Site Builder is, as you would have seen through the video above, is where you start your website. You add in your site name, choose your theme ( which you can change anytime) and press the BUILD button … too easy !
Manage your reader's comments  and feedback as well on Site Comments and Site Feedback.  This is great for engaging your readers and finding out what they want to read about and what they think of your site.  You can ask for site feedback and comments from the WA community so you can develop you site from any constructive responses that you receive.
WA have recently introduced SITE DOMAINS where you can purchase a personalised domain name for your new website. Hosting your own domain name is a Premium feature – but the hosting is included in the month fee along with all the other benefits.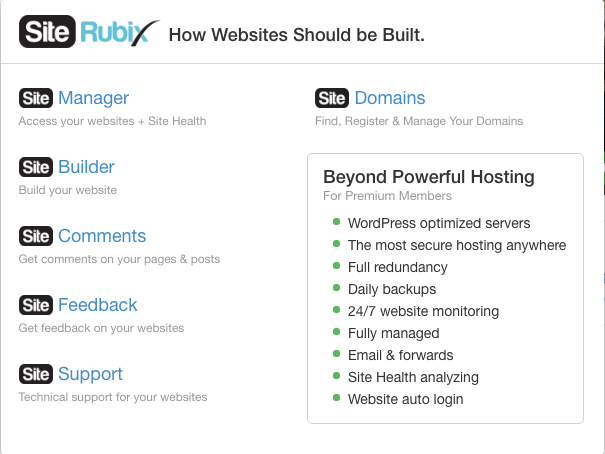 Create a Free Blog Site or a Business Web Presence
Whether you are an individual, maybe setting up a travel blog before the next great holiday or a business that needs to create a cost effective web presence, this is all you need to do to get started.
Once you have logged into the Wealthy Affiliate site, you will see a whole range of tools you can use to help create the most professional looking and performing website that you can find on the internet.
If you want to learn more about building websites before you jump into it  – click on the green Get Started Here button and have a look at the training on how to turn your website into a profitable business.

It all starts with an idea.  You can start a profitable online business by turning your passion into a fabulous website. You can learn how to make money online through your very own website while you learn how to build free websites.
You never know, your cool new website might just be the start of a new career and lifestyle.  If you have a passion for a particular subject – maybe a sport, a hobby or your work , you can turn that passion into a money-making niche website.
You can learn a bit more about developing a niche here.
Niche websites are the key to making money online. You can learn how to build free websites for niche marketing here and get started in an online business of your own, or start making money for a charity or fund raising group.
The options are limitless and the opportunity is HUGE.
.