Finding Your Niche Business Idea
If you have been looking out for a great legitimate online business opportunity you will almost certainly have come across affiliate marketing. And one of the key questions that you might have observed is about how to find a niche for affiliate marketing businesses.
Affiliate marketing is all about niche marketing, and the first thing you will need to achieve is finding your niche business idea.
So, how to find a niche for affiliate marketing.
Any training that you look at regarding niche marketing tells us that the easiest niche you can choose is something that you are passionate about.
You might be passionate about sailing or golf. You might love dealing with animals and be passionate about your Persian cats or your Golden Retrievers.
These are all great ideas but are also considered to be pretty broad. To make these ideas niche, you would need to hone them down further to a very specific market.
You'll want to ask yourself, what specifically do people want to know within this broader idea?
For example, the idea of Persian cats is a pretty cool subject. And to pick a niche idea from this would be to look at something that maybe people might have trouble with – specifically, like 'grooming' Persian cats – or how to groom Persian cats.
What this technically does is it targets a group of people out here in 'Internet land' who are looking for tips or help with grooming their beloved Persians. SO what you are doing is targeting a specific NICHE group of people with a specific 'problem' or requirements – being grooming.
Hence – Niche marketing.
Does this give you some ideas? let me know what you come up and leave a comment below.
I have a couple of niche websites now, but when I first started affiliate marketing I wasn't really sure what niche to work on.
I came across wealthyaffilaite.com while looking around for some niche ideas and found that they had an affiliate Bootcamp. This is pretty much an intensive course based on using 'affiliate marketing' as the basis of your niche.
So for me, I have a lot of experience in business development and sales. I love setting up new businesses or revitalising existing ones. You could say that this is my passion. So I have based my Niche on helping people set up their own online businesses.
Try the WA Affiliate Bootcamp for Inspiration
Using the training and the Bootcamp course helped me to take my online business to a new level. So it certainly something that I highly recommend you have a go at. It is free to start up as well, so you can get a good idea of what it is about before you spend any money.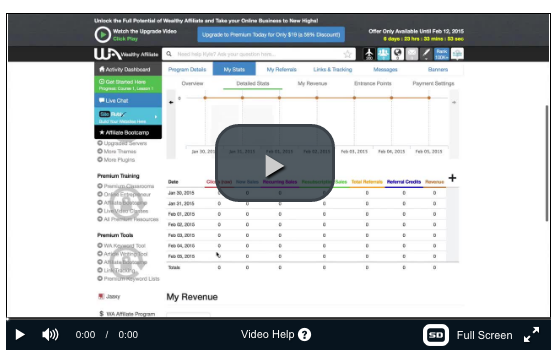 So this is how I found my business niche. If you are still wanting to know how to find a niche for affiliate marketing or finding you niche marketing idea, then give wealthy affiliate  a try and see if you can get some ideas there.
If you are still wanting to know how to find a niche for affiliate marketing or finding you niche marketing idea, then give wealthy affiliate  a try and see if you can get some ideas there.
Test, Try, Move on
When you are a finding you niche business ideas one of the key factors that I need to stress is that you need to research your ideas. Do keyword searches on your niche ideas – give the free trial on Jaaxy a try (keyword research tool), and there is also a keyword research tool within Wealthy Affiliate that you can use while you are in the free starter membership.  You
You don't want to be spending money during your research stage if you can avoid it.
Also, search your niche in the search engines (google, yahoo, Bing) and see what other websites are also offering within your niche.
Then set up a website and trial your niche. Add content, relevant to your target market, and see what traffic you can generate to your site.  Don't expect overnight results. It can take months for a website to start ranking within the search engines, so be prepared to back yourself while you see how your niche idea performs.
If it doesn't work – then be prepared to try another one or another angle. Move on if you need to. It is better business sense not to flog a dead horse (so to speak). But in saying that, if you do good keyword research and learn what you need to know about affiliate marketing, then success is more  likely.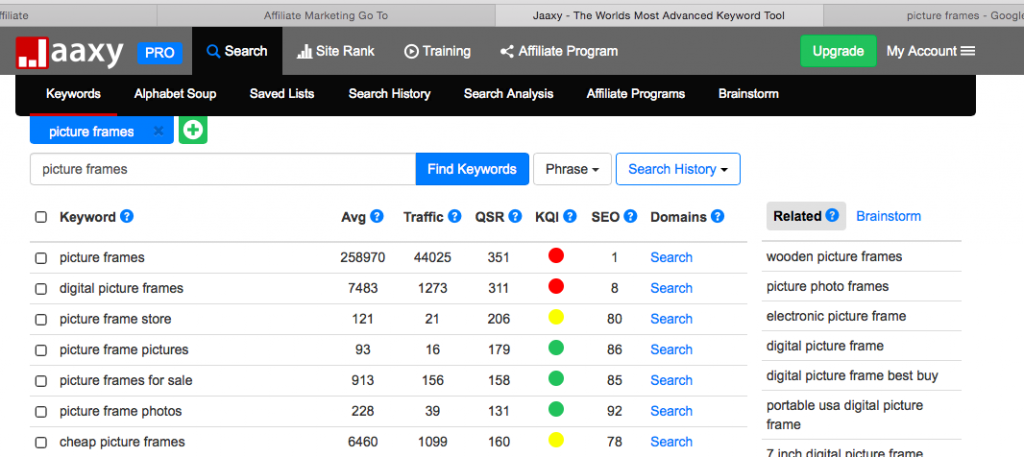 For more information on niche marketing and  content and keywords, follow the links to my training page that will hopefully give you some more ideas.
I can also highly recommend doing the training in Wealthy Affiliate where you can also set up your website and have access to the industries best support and help.
Anyway, for now, let me know how you go with your niche ideas. If you have any questions please add then below and I'll be happy to help out. Hopefully, this will help you figure out how to find a niche for affiliate marketing.